Bunion
Bunions form at the joint behind the great toe when a person's foot flattens out too much during the weight bearing phase of gait. This causes the bone behind the great toe to push toward the mid-line of your body putting excess pressure on this bone in shoe gear. This often causes the bone to proliferate here producing the typical knot or prominence we call a bunion. Due to the arrangement of the tendons and supporting ligaments at the great toe joint, progression of the bunion deformity causes the great toe to move toward the 2nd toe. This puts the cartilage inside the great toe joint under excess and uneven pressure and can lead to degeneration of the cartilage and the formation of arthritis. A bursa or fluid sac can form over the bunion where the shoe contacts the bone, causing additional irritation and pain. The small sesamoid bones underneath the great toe joint can become dislocated causing a turning or tilting of the great toe leading to jamming of the joint. Any or all of these events can lead to your bunion becoming painful.
Initial treatment centers on orthotic therapy, attempting to correct the person's abnormal bio-mechanics which have undoubtedly led to this bunion formation. By improving the function of the great toe joint with the esthetics, we are often able to slow down or stop the progression of the bunion. Supportive shoe gear is also beneficial along with temporary activity modification all geared to relieve your pain. If symptoms persist, surgical correction of the bunion and straightening of the great toe can be undertaken to mitigate your bunion pain.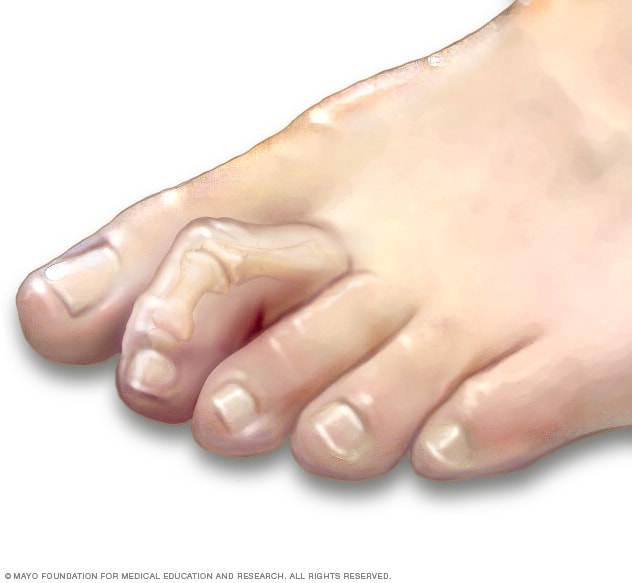 Hammertoe
Hammertoes occur when the person's foot flattens out too much becoming unstable in gait. This causes the tendons which balance the toes to pull on said toes at an altered angle, causing the toes to curl at one or both of their joints. Over time, this change in positioning of the toe joints can become semi-rigid or fixed, preventing the toes from straightening out during gait. This in turn can cause a degenerative type of arthritis and pain in these toe joints. This can lead to painful corn formation on the affected toes.
Again, treatment here is focused on correcting the person's gait using orthotics in the shoe. Padding, finding shoes with deeper toe boxes, and keeping corns trimmed can all provide symptomatic relief. If the pain persists, the toes can be surgically straightened to correct the deformity and re-balance the joints.